Elon Musk likes to show off his toys, and the latest may (or may not) be a component of his new tunnel boring efforts designed to defeat the scourge of Los Angeles traffic.
On Friday, amid widespread criticism related to his advisory connections to the Trump administration, Musk showed that he was nevertheless undeterred in his subterranean geekery when he posted an image of what appears to be a component of a tunnel boring machine (TBM).
Back in December, Musk casually dropped the literally earth-shaking news that he planned to build a tunnel leading to his office at SpaceX under the name of The Boring Company. At the time, it sounded like perhaps just another cute yet lofty brain fart from the founder of SpaceX and Tesla.
Minecraft pic.twitter.com/lU1YzJjLOZ

— Elon Musk (@elonmusk) February 4, 2017
But with each passing month, Musk has revealed another piece of the puzzle that proves he's absolutely serious about creating a Batcave-style secret tunnel leading to his corporate headquarters.
The new tunnel image was posted with no explanation of what exactly it is other than Musk's usual attempt at whimsy by posting a single word with the image: "Minecraft."
And just last week, at least one major TBM company rushed to Twitter to "assist or advise" on the project.
@elonmusk We'd love to assist or advise on your new TBM venture! We have decades of experience as Trenchless Tunnelling experts! Call us! ? pic.twitter.com/om0WRYqRml

— Terra Solutions Ltd (@Terra_Solutions) January 26, 2017
Days later, at a recent event in California showcasing Hyperloop designs, Musk reportedly divulged more detail about his tunnel venture.
At @SpaceX headquarters in Hawthorne, CA, they've started digging a tunnel. Could this be the answer to traffic gridlock? On @TODAYshow. pic.twitter.com/aeVYLY4fVS

— Joe Fryer (@joefryer) January 30, 2017
"We have no idea what we're doing," Musk said, according to the Los Angeles Daily News. "We're going to get this machine, take it apart, figure out how to make it go much faster while still being safe and not affecting people on the surface. We'll see how much progress we can make, but I'm optimistic tunneling can be improved by at least five-fold, maybe 10-fold. That's really key to a lot of technologies — road tunnels, train tunnels, Hyperloop tunnels."
The paper also reports that Musk has obtained a city permit to dig 50 feet below the earth to accommodate his intention to have the tunnel extend from Crenshaw Boulevard to the SpaceX employee parking lot.
I'm a mining engineer that works for you at SpaceX, count me in! TBM development will definitely be useful on Mars 😉

— Kevin Becker (@kmbecker13) December 20, 2016
Although it's unclear when the project will be completed or just how useful it will be, at least one SpaceX employee is already hyped about the prospect at the company's headquarters, tweeting about the project shortly after Musk announced it on Twitter.
That employee also raised an interesting prospect: Perhaps this earthbound project is just a test run for Musk's even loftier plan to one day support a colony on the inhospitable red planet. That's right, tunnels underneath the surface of Mars!
UPDATE
A SpaceX employee posted a photo of the company's first tunnel boring machine on Thursday. The machine clearly displays the company's logo: The Boring Company. The post has since be removed.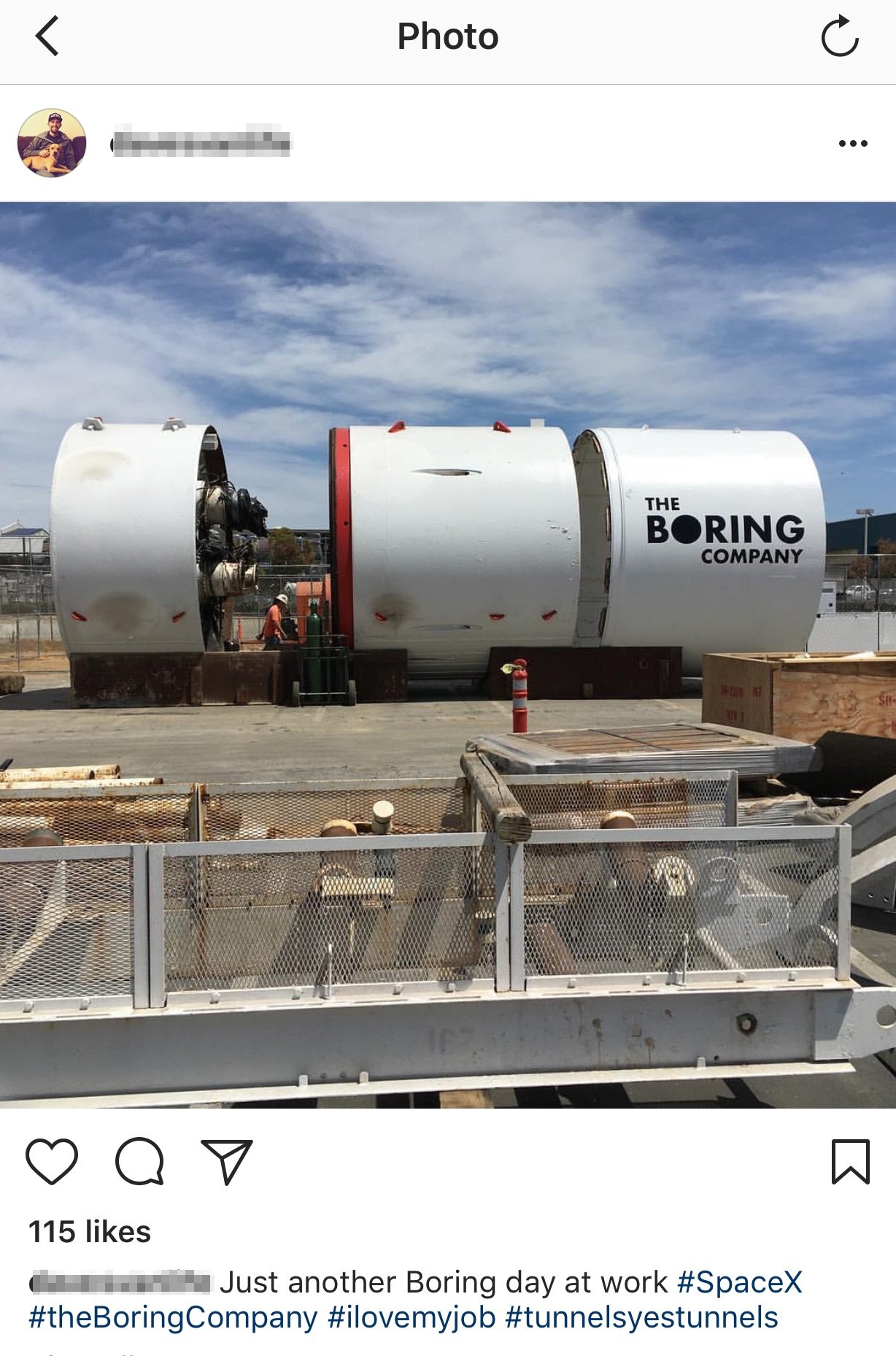 The SpaceX and Tesla CEO first floated the idea of launching a tunnel boring company in December when he was stuck in Los Angeles traffic.
Musk began digging a "demo tunnel" in the SpaceX parking lot in February that can accommodate cars and serve as the basis for an underground transportation network, Bloomberg reported at the time. Musk doesn't need permits to dig on SpaceX's campus, but will need to acquire permits with the city of Los Angeles to extend the tunnel beyond the property line.
Traffic is driving me nuts. Am going to build a tunnel boring machine and just start digging…

— Elon Musk (@elonmusk) December 17, 2016
Musk plans to build an underground network that "includes as many as 30 levels of tunnels for cars and high-speed trains such as the Hyperloop," according to the Bloomberg report. He has already acquired the domain name BoringCompany.com and tapped Steve Davis, a senior SpaceX engineer who Musk tapped to lead the project,.